The following databases are available through the library, and are appropriate for use by psychology students:
Note: Links will work only if you have logged into the library through Atlas first.
*PsycArticles (Professor Preferred Resource) Provides full-text, peer-reviewed scholarly and scientific articles in psychology. It contains more than 100,000 articles from 59 journals - 48 published by the American Psychological Association (APA) and 11 from allied organizations. It includes all journal articles, letters to the editor, and errata from each journal. Coverage spans 1894 to present.
APA citation examples for PsycArticles
Infotrac Psychology Collection This collection gives individuals a basic understanding of the study of the mind, emotions and how the human mind develops -- and diminishes -- over time. Your library's users will have instant access to 200 subject-appropriate full-text periodicals
APA Citation Examples For Infotrac Psychology Collection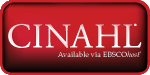 CINAHL provides full-text access to more than 560 journals from the fields of nursing and allied health, including bio-medicine, alternative medicine, consumer health, and 17 allied health disciplines. Results can be limited to Evidence-Based Practice.
APA citation examples for CINAHL

Health Reference Center Academic offers an advanced interface to the full-text nursing and allied health journals dating back to 1980 in the Health and Wellness Resource Center. There are many psychology-related journals ranging from general coverage, to developmental and cognitive psychology. Also includes current editions of newsletters, pamphlets, newspaper articles, topical overviews and reference books.
APA citation examples for Health Reference Center Academic
Health and Wellness Resource Center offers access to full-text nursing and allied health journals, Internet web sites, encyclopedias and other reference sources including the Medical and Health Information Directory and PDR Family Guides. Includes an alternative health module and multimedia library of over 700 videos from the Healthology consumer health library.
APA citation examples for Health & Wellness Resource Center

Medline with Full-Text has full-text journal articles for nearly 1,200 journals with coverage dating back to 1965. Includes information from a broad spectrum of medical fields, such as nursing, psychology, psychiatry, and psychotherapy.