General Science Full Text covers a wide array of science-related topics including astronomy, biology, botany, chemistry, conservation, environment,genetics, physics, physiology, zoology and much more. Its features include graphs, charts, diagrams, photos and illustrations that convey an abundance of scientific information.
Science in Context delivers integrated content through comprehensive reference sets from Gale Encyclopedia of Science, Chemical Elements, Science in Dispute and Macmillan Science Library, as well as topic overviews, biographies, periodical articles from noted publications like "Science Weekly", "Science News" and "The Science Teacher," images and videos, and more.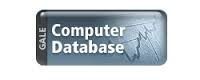 Computer Databases offers access to today's most well-read and influential periodicals on the computer, telecommunications and electronics industries.
Fergusons Career Guidance Center: The Career Guidance Center provides career research assistance from Facts on File's Encyclopedia of Careers and Vocational Guidance and Career Opportunities, as well as archived issues of the journal Career Opportunities News.