Click on any of the database icons below to access the database. Please note that if you did not log in to the library databases through Atlas, you will be prompted to enter a Borrower ID and pin to access these databases. The Borrower ID is your VID number (including the V) and your pin is the last four digits of your VID number.
Biography In Context (Also Known as Gale In Context: Biography)
Biography In Context contains over 700,000 entries on more than 400,000 international people including authors, scientists, celebrities, and more.

Bloom's Literature
Bloom's Literature has a wide ranging selection of biographies on various authors. Search for your author and limit your results to biography or you may use the author index.
The Dictionary of Literary Biography Complete contains biographical essays on more than 12,000 authors.
Gale Literature contains biographical information as well as critical analysis, literary movements and genre coverage.
Literary Reference Center Plus (EBSCO)
Literary Reference Center is a full text database that combines information from major respected reference works, books, literary journals as well as original content from EBSCO Publishing . This resource includes 130,000 author biographies.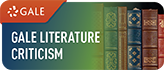 Literature Criticism Online (Gale)

Literature Criticism Online is a comprehensive resource dedicated to literary biographies and criticisms for authors form antiquity to the present.
Browse, read, download and annotate over 150,000 full-text ebooks.
Salem Press
Collection of online reference books with a heavy focus on authors and critical insights into their works.